Bulk SMS End User Guide
Compose Bulk SMS
Go to the "SMS" tab menu and select "Compose SMS"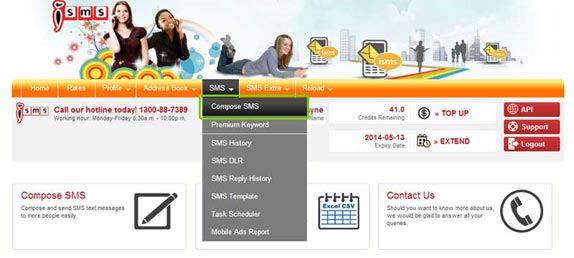 Receive reply via SMS.
Receive reply via Email.
Template - Select Template to send SMS.
Send To


Enter your destination number to send.
Separate each mobile number using semicolon.
e.g 60195002166;60164502380

Long Message - If you wish to send long message.
(more than 153 characters, you need to select long message)
Signature - add on signature after your message. e.g "Hi how are you << Company Name
Message Type - key in your message there and iSMS system will auto calculate the characters remaining for you.

for Normal message type, maximum 153 characters per SMS credit.
for Unicode message type, maximum 63 characters per SMS credit.

Click Send Now to send SMS.
Click Send Later for task scheduler.
Auto Response Message - auto reply after receive SMS from customer.