Bulk SMS Malaysia Monthly Summary
A bulk SMS monthly summary is as equally important as the daily sms report because the monthly summary holds information for the total usage in your main SMS account. This is useful when your company is doing budget planning and decides if its necessary for you to add more budget to focus on SMS marketing.
You will be able to view their monthly summary by clicking on "SMS Monthly Summary". After clicking on it, user will able to view as picture shown below.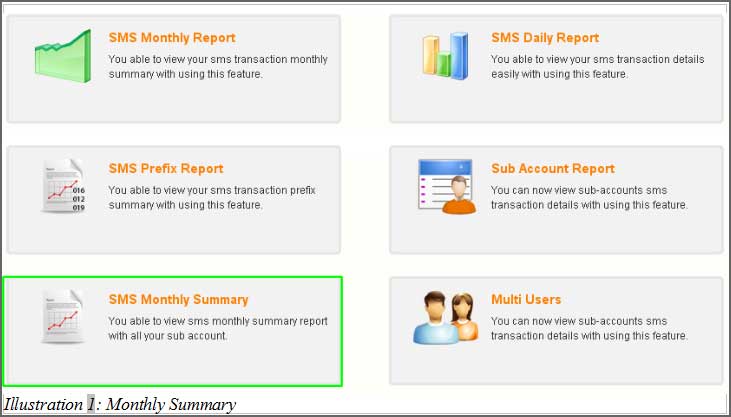 You can choose the date to show the monthly summary, or write out the month to show the monthly summary. Lastly, click on the "Submit" button beside the calendar button.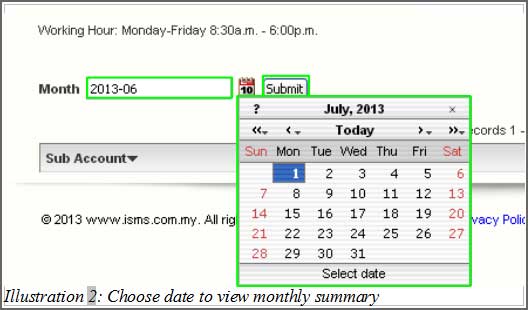 After clicking on the "Submit" button the record will show up on the table as below.

Other Contact Methods
For further enquiries, please contact us via the information below:
E-mail | sales@mobiweb.com.my
Note to registered users: Please include your Username in the email.
Phone Numbers:
1800 87 7061 (Malaysia only)
+604-6420621 (Penang, Malaysia)
+603-79801388 (Kuala Lumpur, Malaysia)
Fax:
+604-6468367 (Penang, Malaysia)
+603-79802388 (Kuala Lumpur, Malaysia)