South East Asia Rates
We also support the following countries:
| | | | | |
| --- | --- | --- | --- | --- |
| Malaysia | Singapore | Indonesia | Brunei | Thailand |
| Vietnam | Cambodia | Myanmar | Laos | Philippines |
iSMS Special One Way SMS Short Code
Marketing and communications departments of large corporates or SME planning to deploy SMS marketing will be able to send large volume one way sms notifications while displaying special numbers that is shorter than a full telephone number.
You get to save cost as there will be NO setup or registration fees. Only 10 SMS credits will be deducted upon every short code SMS implementation. (You may call or email to our support and setup Short Code SMS for Free)
Displaying consistent short code SMS numbers will create a more professional outlook for your SMS campaigns. Also, shortcode numbers will avoid SMS receipients to be confused when receiving sms notifications of your businesses from seemingly random sources.
Contact iSMS One Way SMS today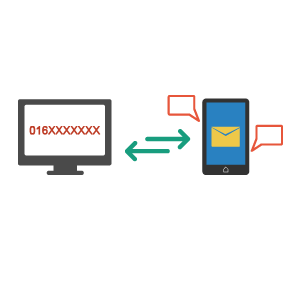 Send SMS via iSMS Long Code One Way SMS
Instead of using your personal mobile number to send mass SMS to your customers, using iSMS Long code one way SMS is the best way of reaching your customers quick and seamlessly.
iSMS long code SMS is considered standard SMS messaging for end user and frequently deployed for multiple sms campaigns.
However, if you are interested in subscribing for a dedicated longcode number for receiving one way SMS, you can have a look at Dedicated Virtual Number Hosting for more information.
Sign up with us today!
iSMS Long Code One Way SMS Benefits
Low cost
Quick & all setup is handled by iSMS
Receive SMS replies
Short Code SMS uses 5 digits number that unable to reply. E.g 6xxxx.
Long Code SMS uses random mobile number that able to receive replies. E.g. 012 or 013 etc.